Cable glands may seem trivial on the surface – they are used to route wires out of the housing of an electrical device. In reality, however, this is not their only task. The topic is much broader and full of nuances that can be crucial in specific scenarios. Therefore, it is worth learning more about cable glands, their properties, as well as their impact on the safety and functionality of equipment.
In this article, we present a brief compendium that will allow you to expand your knowledge about cable glands. Whether you are looking for a specific gland or just want to learn more about them, we invite you to read on. 
What tasks do cable glands perform?
In addition to the primary function of securing wires, cables or conduits in an enclosure, cable glands can also perform a number of other tasks. For example, cable glands with a strain relief help to protect and stiffen the part of the cable that is most susceptible to damage. They are particularly useful in portable equipment and various types of devices with moving parts. 
Another important task is protection against dust and moisture. The majority of cable glands available on the market have an IP68 rating – providing complete protection against dust and immersion in water. This is made possible due to specific design of the gland. A special clamping mechanism with a rubber gasket adjusts its shape depending on the cable diameter, thus ensuring a solid and tight connection.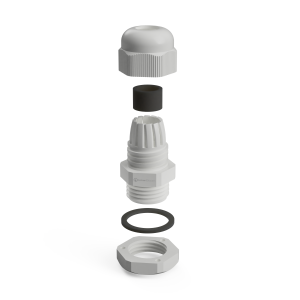 Fig. 1 Construction of a typical cable gland.
Speaking of moisture protection, it is also worth mentioning about ventilation glands. They allow for pressure equalization on both sides without compromising water-tightness. This reduces the risk of the enclosure becoming unsealed due to, for example, a rise in temperature inside the enclosure or variations of atmospheric pressure.
Read also: Ventilation cable glands – new in InterElcom's offer!
How are glands installed?
The method of installing a cable gland varies between different types and designs. For example, there are sectional grommets with a latch, as well as rubber cable grommets that are mounted by pressing into a cutout. Most cable glands, however, mostly use thread mounting. Locking nuts and rubber seals are typically included, but you can choose a gland without these accessories if your application does not require them. 
Cable glands can have one of three types of thread. The most common type is metric thread. Cable glands typically use threads from M12 to M63, but sizes outside this range can also be found. The second type is the PG thread (German: Panzergewinde) – this is a special type of thread used in electrical installations. It has slightly smaller pitch and depth than metric thread. Although this standard has been withdrawn, PG threads are still used for cable glands and electrical conduits. Typically they come in sizes ranging from PG7 to PG48, where the number corresponds to the maximum diameter of the cable that fits inside the conduit.
| | | | |
| --- | --- | --- | --- |
| | | | |
| PG7 | 12.5  | 1.27  | 3 – 6.5 |
| PG9 | 15.2  | 1.4112  | 4 – 8 |
| PG11 | 18.6  | 1.4112  | 5 – 10 |
| PG13.5 | 20.4  | 1.4112  | 6 – 12  |
| PG16 | 22.5  | 1.4112  | 10 – 14  |
| PG21 | 28.3  | 1.5875  | 13 – 18 |
| PG29 | 37.0  | 1.5875  | 18 – 25  |
| PG36 | 47.0  | 1.5875  | 24 – 32  |
| PG42 | 54.0  | 1.5875  | 32 – 38  |
| PG48 | 59.3  | 1.5875  | 37 – 44  |
Table 1: Dimensions of PG threads used in cable glands.
The last category is inch threads, that is, identical as those used for pipe connections, as well as hydraulic and pneumatic installations. However, they are not nearly as common as the previously mentioned types. Both straight and tapered threads are used in glands, usually in sizes from ¼" to 1″.
What are the glands made of?
The most popular materials used for manufacturing cable glands are plastics. Slightly less popular are glands made of metal. Other types of cable grommets can also be made of rubber or soft PVC. The choice of gland material should depend on requirements such as durability, clamping force, flammability, chemical resistance or even just aesthetics. When it comes to plastic glands, nylon (polyamide) and polypropylene ones are the most common. If a metal gland is required, we can choose between nickel-plated brass and stainless steel. However, it should be noted that most metal glands still have clamps and seals made of plastic and rubber.
Colors of cable glands
The colors of cable glands are determined using RAL color management system. It is a European standard used to specify colors of plastics, paints and varnishes. RAL allows for easy and accurate color matching between the gland and the enclosure, regardless of the manufacturer or material. The most common gland colors are RAL9005 (black) and RAL7035 (light gray), but virtually any other color is also possible. The only exceptions are glands made of nickel-plated brass or steel, which have a metallic look. RAL is not used for these.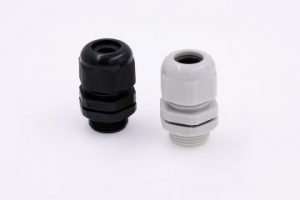 Discover our wide range of cable glands
Looking for a cable gland? Look no further! InterElcom offers an extensive range of cable accessories at attractive prices. In our product catalog you will find a wide selection of cable glands, plugs, connectors, cable ties and heat shrink tubing. We also offer various services, such as cable cutting and processing, as well as custom manufacturing of wire harnesses.